Since the site is rather new, these questions are frequently asked by myself
Big questions that demand separate pages
Q.

Is there such a thing as PageRank leak?

A.

That depends on how you define PageRank leak.

Q.

Can I generate my own PR?

A.

There are three suggested ways to generate PageRank, but they don't really work.

Q.

Why doesn't your spreadsheet give the same values as the other PageRank explanations do?

A.

Q.

What if I want to simulate a site with more than 10 pages?

A.

See the page about large sites.
Smaller questions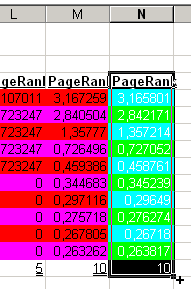 Pull the handle to get more iterations
Q.

Are you colour-blind?

A.

No, my eyes are fine - thank you.

Q.

How do I get more iterations?

A.

You simple mark the right-most column with your mouse - and then drag the little handle at the bottom right. See the illustration to the right.

Q.

What does "

#VALUE!

" mean?

A.

That's Excel's gentle way of telling you that you have put a space in one of the cells. To fix it, go trough the apparently empty cells and fill them with a zero, or use the Del-button to empty them. If this doesn't work - reopen the spreadsheet.

Q.

Is the spreadsheet available for other applications than Excel?

A.

Sorry. But if you make one yourself, let me know, so that we can share it with the community.

Q.

Is PageRank named after Larry Page?

A.

Yes it is - according to this page:Google fun facts. However, this may be an afterthought for legal reasons: Other search engines can't use the PageRank concept if PageRank is named after one of Google's founders.
Welcome questions
Q.

If you're so smart, then how come you don't have a higher PageRank yourself?

A.

Thank you for asking. You are welcome to do something about my unfairly low Page rank by linking to this site.